Portfolio
Waterfront Hilton Beach Resort
In the surf capital of Southern California a resort redesign lifts the community profile with a new hotel tower boasting expanded pools and a rooftop bar
Location
Huntington Beach, California, USA
Size
1.49 acre site
new 10-story tower
152 new guestrooms (437 total)
Services
Tags
Located in picturesque Huntington Beach, The Waterfront Beach Resort, a Hilton Hotel, has been the resort centerpiece of the Southern Californian surf capital since 1990. The city's rich beach culture, inimitable creative energy, and vibrant shopping district epitomizes the quintessential SoCal spirit of freedom and fun.
Recently renovated, the expansion and redesign are comprised of a new nine-story, 152-room suite-centric Twin Dolphin Tower, which connects to the property's existing 285-room Huntington Tower, a new pool with waterslides, Kid's beach, multiple dining spaces, indoor and outdoor multi-function event spaces with oceanfront grand lawns, and the highly anticipated "Offshore 9" open-air rooftop lounge. WATG and Wimberly Interiors thoughtfully devised a plan with restaurants and function areas engaging the pool, with views to the pier and beyond.
The design challenge began with the expansion of the back-of-house spaces and re-connecting of the existing services. Blurring the facade between the original tower and the expansion tower, and the nearly 30 years of history that connect the two, was a priority for the team. Seamless integration of the new and old, as well as providing the most up to date and sought-after amenities, while emphasizing the relaxed beachside vibe of the property were key components of the vision for the renovation and expansion of this landmark Huntington Beach resort.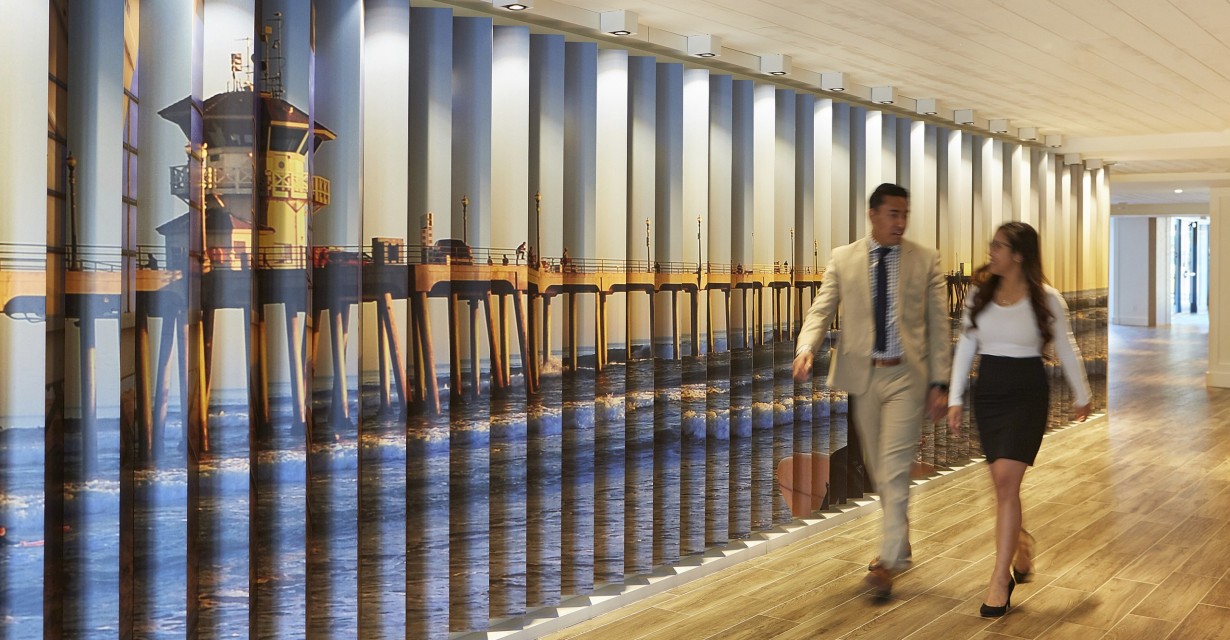 Fully inspired by its surroundings, a fresh canvas of whites, blues, and greens, set alongside locally sourced rustic coastal materials, create an authentic sense of place and redefine a new level of comfort within a casual beach setting. Pops of color are thoughtfully interspersed throughout the design; the bright yellow guestroom doors are inspired by the year-round sunshine of the SoCal coastline; and the cozy armchairs found in the guestrooms, incorporate a racing stripe, mimicking the typical surfboard graphic style. The mix of color, pattern, and texture help to connect the inside to the beautiful beach surrounding outside.
The impressive main lobby acquaints guests to the Huntington Beach vibe and is designed to be a gathering place for locals and guests, with a casual yet upscale vibe. The guestrooms, with glass balconies, feature shutters, pocket doors, painted shiplap walls, and highly textured material finishes encapsulate next-level casual upscale design. Leveraging the stunning site, the rooftop boasts 180-degree views of the Pacific Ocean highlighted by cozy furnishings that create a beach-setting environment, nine stories high. The rooftop includes a lounge space with a grand fireplace and event space for dining and a memorable sunset view over the Pacific.