Press+
WATG WINS 'GLOBAL AWARD' AT 23RD ANNUAL ACG ORANGE COUNTY AWARDS
FOR IMMEDIATE RELEASE
May 2018
Orange County, California – WATG, one of the world's leading integrated design firms, has been awarded the esteemed 'Global Award' at the 23rd Annual 'Association for Corporate Growth Orange County' Awards, which recognizes Orange County's highest performing companies.
The distinguished affair highlighted the achievements of Orange County and Inland Empire-based companies, operating in the middle market space. More than 100 nominees were submitted into the 2018 competition, which began last fall. Shortlisted firms completed a rigorous judging process, undergoing an independent review led by academic and business professionals, who evaluated each firm based on several growth-related metrics.
WATG was founded as 'Wimberly and Cook' in 1945 in Honolulu by Pete Wimberly and Howard Cook. After two decades of iconic design projects in the South Pacific, George Whisenand, Jerry Allison, Greg Tong and Don Goo joined Pete Wimberly and in 1981 the partners opened their first mainland United States office in Newport Beach, California.
Commenting on the ACG Orange County Award, Peter Priebe, WATG Chief Financial Officer said: "We are proud that Orange County has been our corporate home for over 30 years. And while we've always had a thriving portfolio of design projects in California and across the United States, we've also been honored to work with clients all over the world since Pete Wimberly founded the firm in 1945."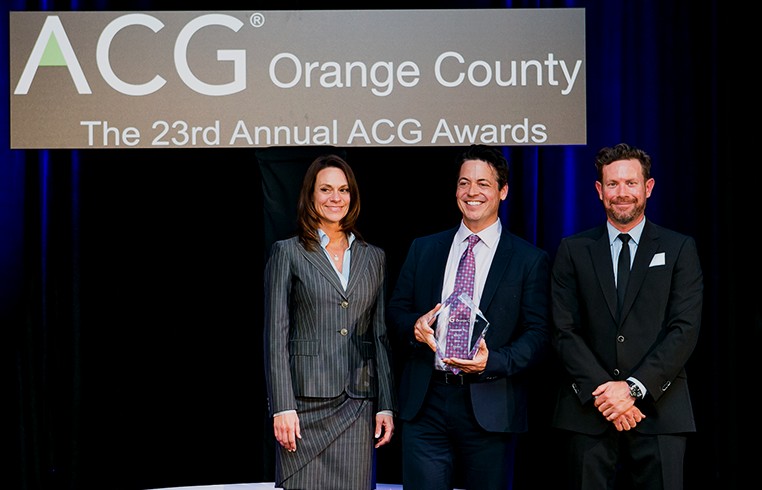 WATG has recently designed several new projects in Southern California including the Paséa Hotel and Spa, Huntington Beach; Marriott Irvine Spectrum, Irvine; Monarch Beach Resort, Dana Point and the Lido House Hotel, Newport Beach, which celebrated its grand opening event in March.
Additional notable WATG projects include the newly opened Bellagio Shanghai, Belmond Venice Simplon-Orient-Express, St Regis Astana in Kazakhstan, Hotel 50 Bowery in New York City and 'Curve Appeal' – the world's first freeform 3D printed house.
WATG's iconic legacy projects include Atlantis The Palm, The Royal Hawaiian, Ritz-Carlton Laguna Niguel, The Lodge at Torrey Pines, The Venetian in Las Vegas and the Tanjong Jara Beach Hotel which was awarded the revered Aga Khan Award for Architecture.
In the ACG Orange County Awards, WATG was one of eight winning companies including Senegence, United Ag, Ambry Genetics, PowerPlus!, ExoAnalytic Solutions, King's Seafood, and NuEyes.
The Association for Corporate Growth, Orange County Chapter recognized Orange County's highest performing companies at the 23rd Annual Awards Gala on Thursday, May 3rd at the Hotel Irvine.
More Press