Portfolio
Fairmont Taghazout Bay
Contemporary sophistication meets modern classic design in an innovative interpretation of the luxury Moroccan coastal resort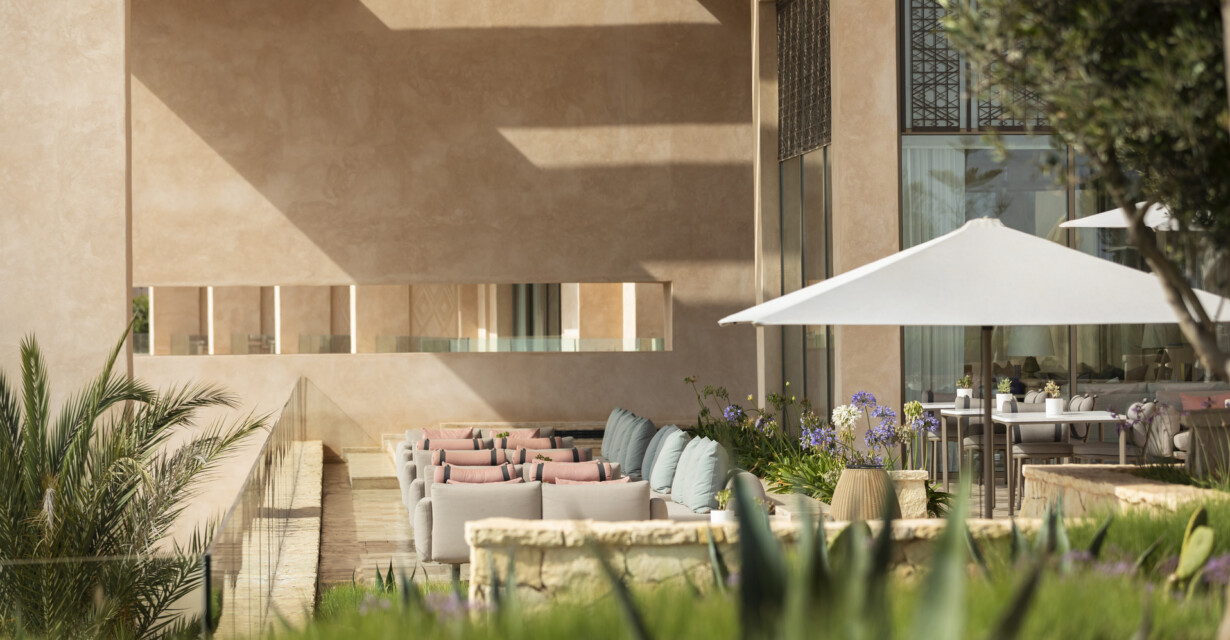 Eight years in the making, Wimberly Interiors' London studio drew on the Fairmont Taghazout Bay's surroundings for inspiration, taking design cues from local textures and techniques, and the awe-inspiring landscape. The result is an authentic, layered look and feel that's reflective of the mountainous terrain, sand and sea, with accents of geometric patterns, colours synonymous with the region, and signature Fairmont elements.
Collaborating closely with the architecture and landscape architecture design teams, detailing and screening were developed holistically, leading to a seamless experience that blends indoors and out. Upon arrival, guests are taken on a journey – overlooking a village beyond that leads to the sea. Across the site, the interior design integrates with the buildings' shapes and forms – with views framed throughout and a series of internal courtyards that nod to the traditional riads of Morocco. 
Inside, a natural and organic approach to materials is punctuated with vibrant color, highlighting Moroccan artistry and referencing local Berber design. Firmly grounding the guest in the destination of Taghazout, Morocco's signature mint tea – with its unique taste in each region – is ceremonially poured as a welcome gesture, creating a truly unique experience that celebrates people and place. 
"A sense of place was integral to the Fairmont Taghazout Bay's identity. It was important for our design team to draw on the rich craft and patterns of the region, like traditional zellige tiles, tadelakt plaster and brick- and metalwork, complemented by a colour palette of deep, inky blues and neutrals. Decorative lighting and rugs were sourced throughout the country, ensuring that feature furnishings highlighted the strength of Morocco's artisans."
—Rachel Johnson, Senior Vice President and Studio Director Wimberly Interiors London
"Morocco has a rich culinary identity, which led us to explore the food scene in cities like Marrakech, Essaouira and Agadir to better understand the breadth and diversity of the cuisine. The research guided the F&B experiences across the Fairmont Taghazout Bay, like the local Berber culture of sharing and cooking methods such as the tagine. The souk and Taghazout's proximity to the sea also informed both the food direction and design across The Commons, Beef and Reef and Morimoto restaurants."
—Damien Follone, Senior Associate and Senior Designer, Restaurant and Bars
"We were incredibly grateful to collaborate with the team on the sourcing and collection of all the incredible accessories that have a nod to the Berber culture. All of which evoke a subtle international flare and timeless elegance, resonating with the Fairmont brand at its heart. It was a true pleasure to work with the entire project team to curate each piece in every space to ensure the perfect portrayal of a residential resort design – located in this stunning destination."
—John Paul Pederson, Senior Designer