Stories
The Art and Science of Landscape Architecture
When it comes to landscape design, it's the experience that is at the forefront of our minds.
It's not about it just looking great, it's about creating spaces for all kinds of different people and with future generations in mind. In our designs it is absolutely essential for us to give careful consideration in the editing of how much space we use because we need to preserve with perpetuity in our thought process. With this approach we are being inclusive in our designs both with humans and with nature.
Landscapes can exist both outside and inside buildings: our designs are devised to create a journey and experience for the people who go there – we study biomimicry and robotic technology, but often the beauty of a project is in something as simple as a stand of native trees, planted to encourage wildlife to co-exist with humans.
Great landscapes have a much stronger purpose than being aesthetically ornamental to support a building. There can be a functional purpose such as solving erosion or drainage for an entire region, or supporting biodiversity. Landscape should be a part of the building design, not a separate aspect of the overall planning.
"Our designs are devised to create a journey and an experience."
By example, in our urban landscape design at Zorlu in Istanbul you will find a highly programmed and interactive environment that encourages children to play, and where wild flowers, olive trees and butterflies live and thrive in the centre of the city. Our intention is to lift the spirit and to improve places where people live, work or visit. Landscaping is a fundamental and integral part of the WATG design vision.
Good landscape design is always sustainable. It is an intrinsic part of master planning and is essential in demonstrating responsibility. We always use indigenous and adapted species to the locale in which we are designing, to ensure that what we do supports the delicate web of fauna. Global warming has created major issues with rising sea levels and increased potential for flooding. Our landscape designs can act as a sponge to soak up excess water. And likewise, plants we incorporate can provide natural air conditioning to spaces through transpiration while they turn carbon into oxygen through natural processes.
Our philosophy is that landscape is the physical expression of broad master planning vision at its most tangible. Our vision is to always innovate and have people enjoy the landscape of spaces between our buildings and interiors. We want them to be surprised and delight in the experience, and that is foremost in our minds when designing. This is evidenced by our use of the existing elements of a site that intelligently takes into account nature's habitat such as an olive grove or a mature, protected woodland. Journeys that connect spaces and buildings are part of that physical expression.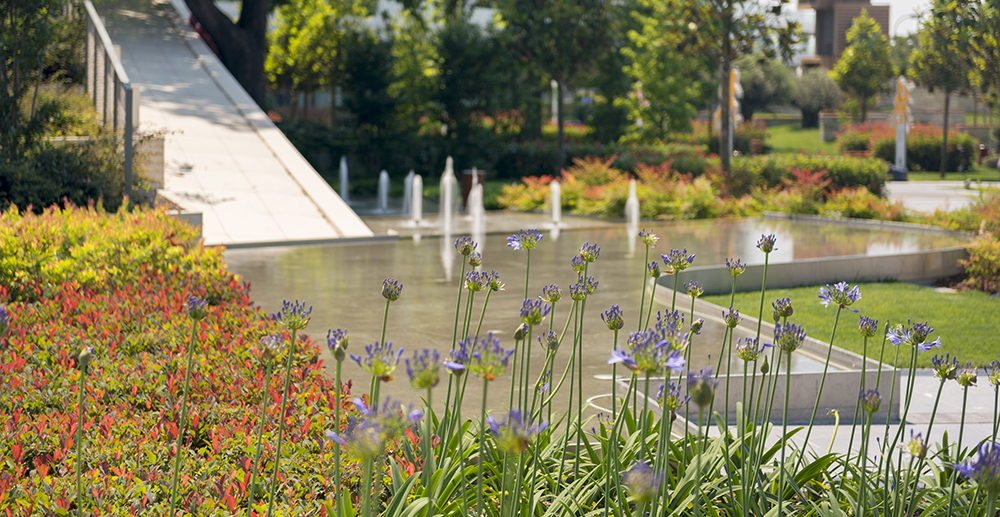 The accommodation of a growing global population will continue to present challenges for landscape design. We're at the forefront of innovation, it is an inherent part of what we do. For example global warming increases the presence of drought so the design of a landscape that can sip tiny amounts of water and still produce shade is evidence of our intention. Incorporating the re-forestation of large-scale plans in a commercial development in Mauritius is another demonstration of our future thinking and investment in the community.
What we're doing is carefully managing the dialogue between the pace of human intervention and Mother Nature through our imagination and modernity of our thinking as landscape architects. As futurists, thinkers and dreamers, it's natural for us to be aware of the impact our landscape design can have on the local environment.
"We're at the forefront of innovation, it is an inherent part of what we do."
More Stories