Insights
OTT design, food as art, the rise of AI and more: 2023 interior design trends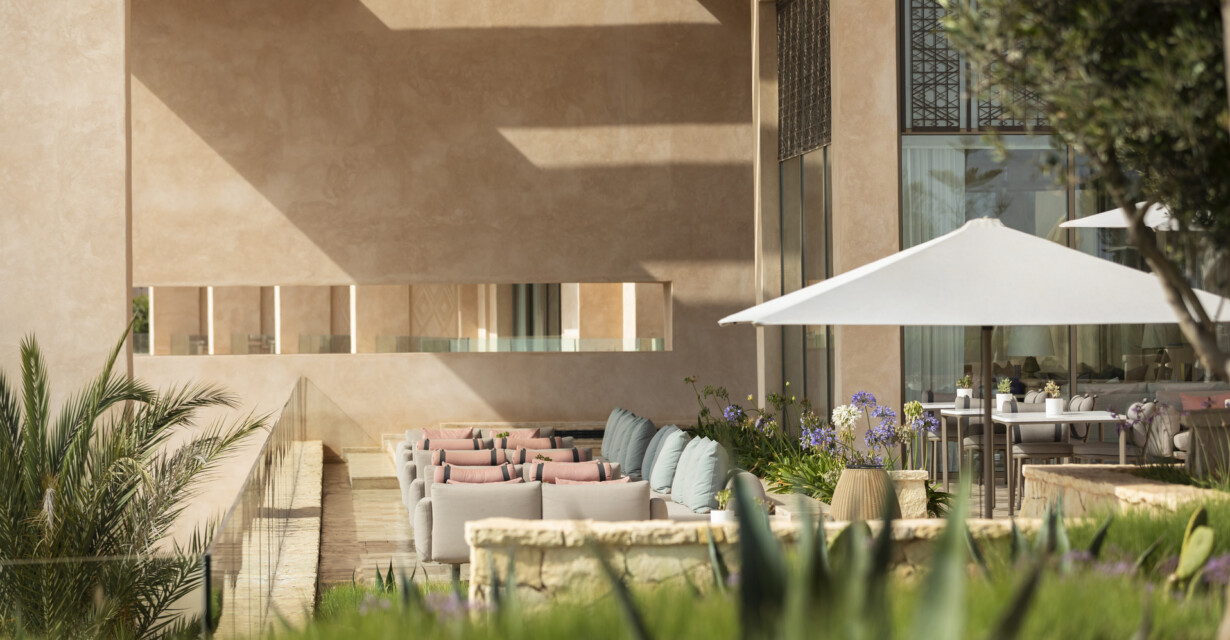 In a world of artificial intelligence, rising inflation and crazy design concepts, it's anyone's guess as to what 2023 will bring. However, one thing we know for sure is that people will continue to seek experience and escape from their surroundings, whether that be in a hospitality, home or workplace context. Wimberly Interiors designers from across the globe – Los Angeles, London, Singapore and New York – share their predictions.
Less fuss, and food as the focus
With the current global financial temperature, people will be buckling down on spending and inevitably reducing going out – meaning that design, too, will need to be savvy. In 2023 and beyond, we may see more simple, honest materials and design without fuss and extravagance. In food and beverage particularly, I see bold and beautiful materials being executed and detailed in an elegant way, rather than the space being layered and over-complicated. Food and ingredients will be showcased as the heroes of the experience, reducing emphasis on the cost of the interiors. Importantly, though, none of this must come at the cost of our escape from reality, authentic design, and the ability to create experiences that truly transport the guest.
—Damien Follone, Senior Associate, Senior Designer, Restaurant and Bars, London
Humans and computers working hand-in-hand
2022 saw a plethora of machine-learning AI programs that generate images through general word descriptions like Dall-E2, MidJourney and Stable Diffusion. As of this writing, AI programs can now generate videos through word prompts. I think 2023 will be the year that people truly realize that we are in the Augmented Age. Everyday programs like Photoshop now have in-built AI capability. The combination of humans and AI machine-learning generate algorithms will lead to amazing design that could not have been accomplished by human effort alone. Designers have a new co-creator, and the possibilities are endless. What an exciting time to work in this industry!
—Noel Cuvin, Senior Associate and Creative Director, New York
Digital nomads driving design
With our inherent desire to explore more pronounced than ever before, along with remote/hybrid workplace trends, the rise of digital nomad visas and emerging barefoot workstation concepts allow travelers to experience the best of both worlds. Flexibility becomes fundamental when designing alternate options within existing spaces to accommodate travel-friendly hybrid, dual-purpose spaces. Meeting rooms that double as wellness and work lounges, and environments that foster greater indoor-outdoor connection will always come out on top. Take for example Ham Yard Hotel in London's Soho, which has repurposed its gardens as open-air offices and meeting spaces, and Calabra at the Santa Monica Proper Hotel, which uses this rooftop food and beverage space for co-working. The work + life + travel blend is well and truly here, and here to stay.
—Irfadha Muzammil, Intermediate Designer, Singapore
Making way for the unexpected, breath-taking and awe-inspiring
We have come out of a period of quiet restraint, and this could lead to an explosion of iconic design in 2023. Following a trend of futuristic cities and floating hotels in the Middle East, interior design may be pushed further into the remarkable, ground-breaking and innovative. Clients, operators and customers want to experience the unexpected, breath-taking and awe-inspiring. Instagrammable moments, as always, remain top of mind for many and everyone wants the wow factor: a balance of yin and yang, from darker, moody classical interiors to light, bright, resort-inspired looks and feels will take centre stage. Colour-wise, jewel tones are big, with green still huge, especially in the pistachio and sage tones.
—John Paul Pederson, Senior Associate, Director of Design, London
Will self-service stick around?
From an operational standpoint, I think 2023 will bring a reaction to the pandemic-induced self-service hospitality trends we've seen. People are yearning for genuine human interaction. Likewise, we've already seen the trend of former office spaces being converted into alternative offerings such as hotels or housing. This will continue, but the ante will be upped: abandoned spaces and former offices are ripe for innovative food and beverage concepts, and high-voltage clubs and lounges.
—Josh Held, Vice President, Director of Entertainment, New York
Smart technology and its role in intuitive hospitality design
Hoteliers today must be on top of their game in terms of smart technology. After all, it helps to limit physical contact between staff and guests – something that has become a requirement in the post-pandemic era. However, technology must go beyond this in an effort to provide flexibility. Guests want intuitive elements that make their experience seamless, clawing back precious time that could be spent on other activities such as enjoying time with family, experiencing a property's food and beverage offerings, relaxing at the spa, or working from the communal spaces. As interior designers, staying ahead of the curve and identifying what smart technology will truly optimise a room versus create unnecessary complications is key. Time is the ultimate luxury. Similarly, health and wellness is still huge, with mindfulness a leading factor. This will continue to manifest through interior design choices such as sustainable materials, considered lighting, and more.
—German Mendoza, Senior Associate, Senior Designer, London
Experience is everything
As always, experience is everything in hospitality design. People are looking for something unique, immersive and transformational – a place to create memories and celebrate. Exhilarating yet approachable and tailored interiors will manifest as a result, and spaces will become even more flexible and practical than ever before as we continue to prioritise health and wellness, indoor-outdoor living, and work from anywhere.
—Erin Nichols, Senior Associate, Creative Director, California
Places to dream, to be inspired, to be amazed and to show off
Hotels are no longer functioning as just resting, gathering or relaxing spaces, nor fine dining destinations. They are now a place to dream, to be inspired, to be amazed and to show off.
To dream: With a desire to consume a high-quality lifestyle, fulfilling one's short-term luxury anxieties in terms of materiality, culture and pride. One night to escape from reality.
To be inspired: Hospitality design always begins with understanding the surroundings, bringing its unique chrematistics and community to the fore. Hotels act as a narrator in this process, inspiring guests' curiosity and fuelling their desire to explore local culture, art, food and life in new and familiar ways.
To be amazed: Distinctive design and wow factors are seized in every type of hotel, leaving guests with a lasting impression. Significant architectural forms, feature installation art, magic lighting effects, impressive FF&E and innovative interior layouts are just some of the tools required to compose memorable moments.
To show off: In some respects, hotels can act as one's stage. Depending on the context, guests may dress in a particular aesthetic or match the surrounding colours, capturing an 'Instagram moment' and sharing it with their followers. In this young at heart and kidult generation, lifestyle and hip hotels have successfully established a strong market share – in part with thanks to the growing importance of 'being seen'.
—Gigi Kwok, Design Director, Singapore
More Insights