Press+
WATG HAWAII RECOGNISED IN AIA HONOLULU'S 2017 DESIGN AWARDS
FOR IMMEDIATE RELEASE
October 2017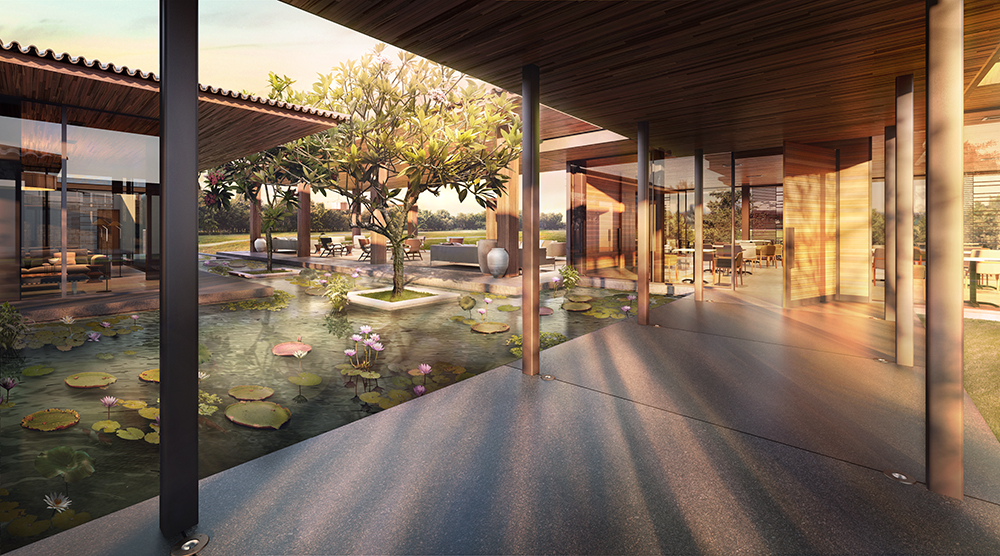 The results are in and we are delighted to announce that WATG has received the 'Award of Merit' in AIA Honolulu's 2017 Design Awards, for the Glade One Golf Clubhouse, Ahmedabad, India.
Located just outside the dynamic hustle and bustle of Ahmedabad, the Glade One Golf Clubhouse is an oasis of natural beauty. Designed as a series of connected pavilions gently elevated above grade, offering panoramic views over the exquisite Gary Player Championship golf course. WATG worked to ensure three things; maximised views, protection from the weather and a comfortable temperature. The water court has a central seating area, allowing guests to enjoy a blissful moment amongst the landscape. The design evokes a tropical style that echoes the golf landscape, coupled with minimalist details of raw finishes, concrete, wood, and steel.
"The intent was to create a clean, modern building, minimal in detail yet responding to the desire for a very comfortable and relaxed setting." Stephen Albert, Vice President, WATG.
WATG has designed over 50 projects in India for leading international hotel operators, including legendary projects such as The Ritz-Carlton Bangalore; Leela Kempinski, Goa; the restoration of the magnificent former palace of the ruler of Nizam, Taj Falaknuma Palace, Hyderabad; and the lavish, multi-award winning Leela Palace Kempinski, Bangalore.
AIA Honolulu's Design Awards celebrates excellence and innovation in architectural design. Since the awards began in 1958, WATG has received over 20 awards from AIA Honolulu Design Awards including: the 'Award of Excellence' for the Shangri-La Maldives; 'Award of Excellence' and 'Major's Choice for the Hilton Hawaiian Village; and the 'Grand Award' for the Grand Hyatt Resort & Spa, Kauai.
More Press