Portfolio
Rosewood Baha Mar
A fresh, modern and unmistakably Bahamian residential-style design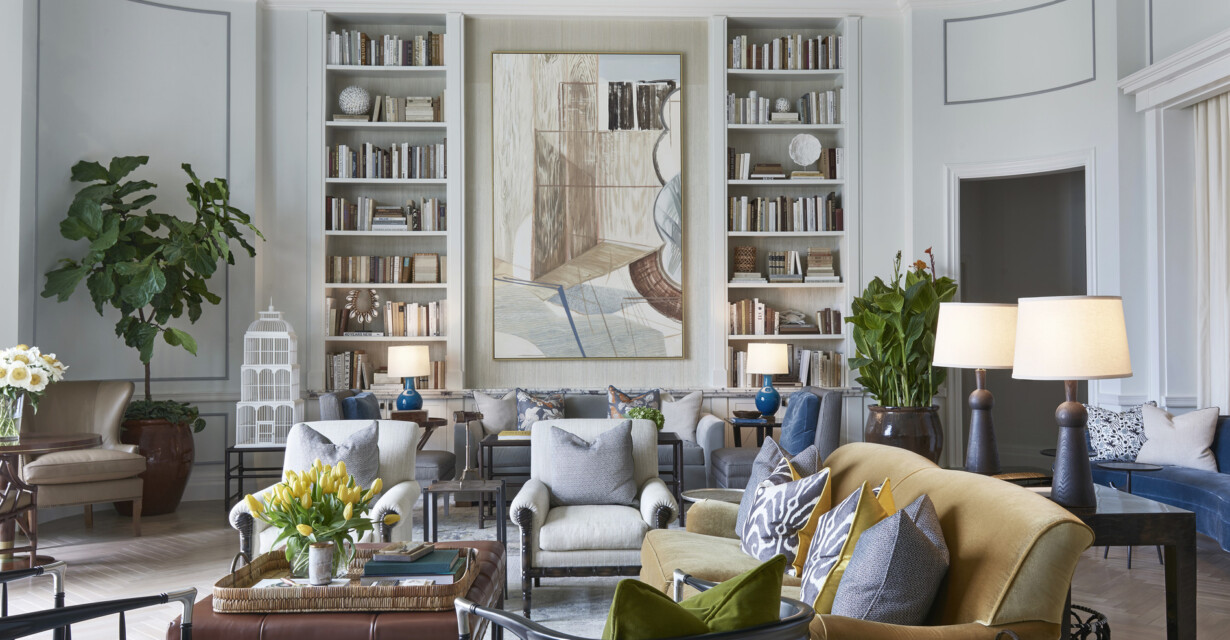 Size
237 guestrooms, suites and beachfront villas
Services
Tags
Set on the white sands of Nassau's Cable Beach in the Bahamas, Rosewood Baha Mar reflects the residential qualities of Harbor Island – fresh, modern and unmistakably Bahamian – interwoven with the renowned brand's distinctive character.
Residential in style, public spaces were designed to flow harmoniously between the foyer and into the Living Room and onto the Library. Within the lobby, walls are adorned with a bespoke mural, hand-painted by the artists of SilverHill Atelier, that serves as a focal point and creates visual separation between the various spaces. A large, custom-made vitrine nearby displays a curated collection of the hotel's objects.
The Living Room mural showcases sweeping island views in the painting styles of John Hussey and Milton Homer Williams, both ex-patriot artists who passed through the Bahamas. SilverHill Atelier worked closely with local artist John Cox to develop the final concept. The color arrangement was imperative to the design and the Wimberly Interiors team selected a sophisticated palette of neutrals, highlighted by rich tones of green, blue and charcoal. Purposely avoiding the expected color scheme of monochrome or vivid brights, the mural acts as a visual tool that blurs the lines between indoors and out.
In the Library, high ceilings and two grand bookcases expand into the lofty interior. A soft and soothing palette of pale blues and greens are punctuated with rich textures and bold colors found throughout the fabric and art selection. A custom art piece, also developed by SilverHill Atelier and John Cox, anchors the bookshelf wall. This modern, abstract piece draws inspiration from the natural textures and hues found in Nassau. Multiple seating areas inspire guests to stay, relax and lose themselves in conversation – or a good book. A carefully curated collection of objects is arranged upon shelves and tables, encouraging guests to explore and discover the space.
In the guestrooms, a curated mix of furnishings and finishes add to the fresh, modern Bahamian design. The base palette is light and sophisticated, using crisp whites, gray washes and rubbed ebony finishes to set the scene. Inspired by the spectacular views, and guided by the incredible sunsets, elegant color punctuations provide contrast – beautiful Caribbean blues, coral and lavender. Accent pieces such as woven rattans, rope and painted lacquers are all blended into the design.