Portfolio
Fari Islands, Maldives
Together Pontiac Land, WATG has drawn on its 76-year legacy as the world's leading hospitality design firm to realize a vision for "Four Islands, One Destination"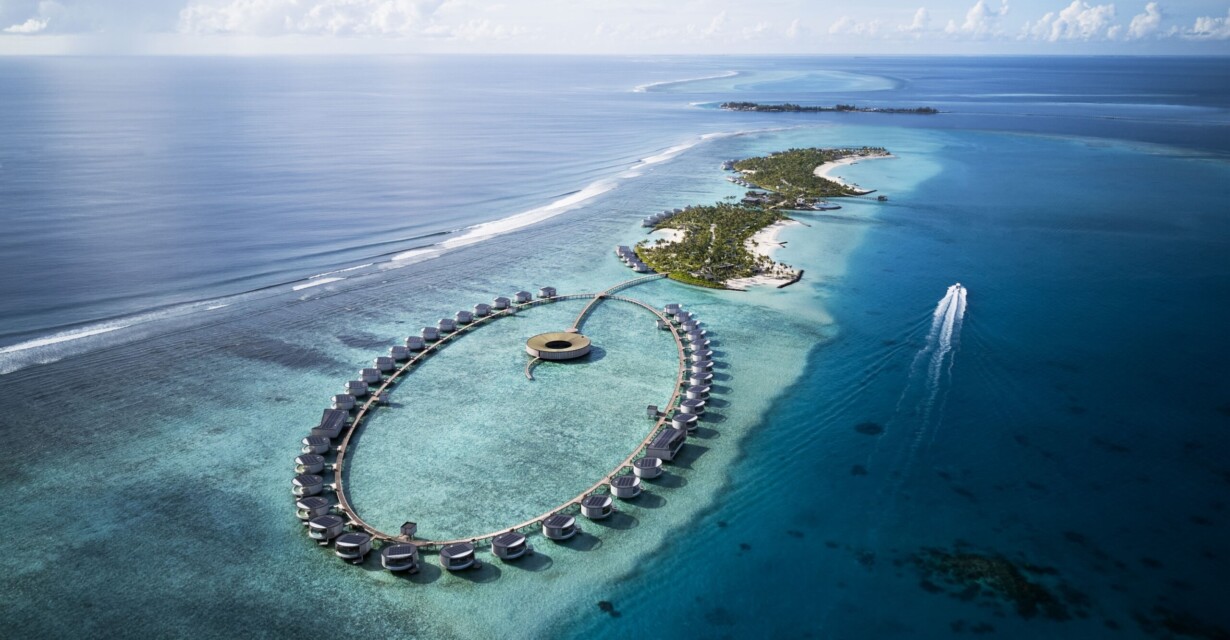 WATG has drawn on its 76-year legacy as the world's leading hospitality design firm, realising the vision for a new tourism destination in the Maldives, Fari Islands. Bucking the tradition of Maldivian resorts being developed on a single, solitary island, WATG challenged the status quo to shape the future of travel experiences in the region with an industry leading concept of "Four Islands, One Destination". Since May 2021, Patina Maldives, Fari Islands and The Ritz-Carlton Maldives, Fari islands have made their debut, with Capella Maldives, Fari Islands – designed by Kengo Kuma and Associates in collaboration with WATG – scheduled to complete the grand plan in 2023.
Having been commissioned in 2015 by Singapore-based developer, Pontiac Land, WATG's master planning team collaborated with stakeholders and local marine engineers for six years to bring the Fari Islands to life.  The result is a unique ecosystem of innovative hospitality concepts comprising three distinct luxury resorts and the unprecedented Fari Campus, which is a dedicated island for staff accommodation with a focus on community, education, and engagement.  
"From inception to reality, Fari Islands was developed with the new era of Maldivian vacation in mind. WATG's master plan sought to create a luxury tourism destination set within a 5.8km2 lagoon, breaking through the stereotype of the one-island one-resort vacation in the Maldives," said Robert Day, Regional Managing Director, WATG and Wimberly Interiors, Asia Pacific and China.
Landforms were positioned after detailed analysis of bathymetry data and marine survey, to protect the archipelago's coral-rich south-east and locate the active hub in the north. Each island was individually designed to be set back in privacy, framed by the Maldives' turquoise blue waters, clear views to the east and sunsets to the west, while also allowing the natural flow of the sea current within the lagoon.
Taking a bold move to disrupt the typical Maldivian vacation, the team ensured that guests could enjoy a wide range of amenities catering to different age groups, cultural backgrounds, and vacationing expectations. As a result, Fari Islands delivers an elevated luxury destination that celebrates nature, craft and connection for families, honeymooners, retirees and global travelers alike. Strategically located on the same island as Patina Maldives, Fari Islands is the picturesque Fari Marina Village, a vibrant social hub modeled after the world's famous beach clubs offering a selection of handpicked gastronomic indulgence as well as charming retail concept stores for guests at all resorts.   
In addition to guest experiences, the master plan provides a dedicated staff island (Fari Campus) on the south-east end of the archipelago to support the development and to accommodate for hotel employees from all three resorts in a campus-like setting. 
"Fari Islands was designed for the next-generation travelers who prize responsible travel and meaningful connections. While traditional resorts in the Maldives offer a one-island, one-resort experience, we envisioned an archipelago comprising three world-class resorts complemented by a vibrant social hub for curated lifestyle experiences," said Evan Kwee, Head of Design & Hospitality, Pontiac Land. "Together with WATG's master planners, we designed a microcosm of hospitality offerings for guests to enjoy a wide range of experiences catering to different age groups, cultural backgrounds, and vacationing expectations."
Masterful design of each individual island continued in liaison with each of their world-renowned designers, including lead architect Kengo Kuma & Associates in collaboration with WATG (Capella Maldives, Fari Islands), Studio Mk27 by Marcio Kogan (Patina Maldives, Fari Islands) and Kerry Hill Architects (The Ritz-Carlton Maldives, Fari Islands), to create a delicate balance of serene and social.
Fari Islands' visionary concept has already received international recognition, honored in Travel + Leisure's Global Vision Awards 2021 for its strides in conscious travel and sustainable living.