Insights
Green Block Flatiron: a vision for a new New York City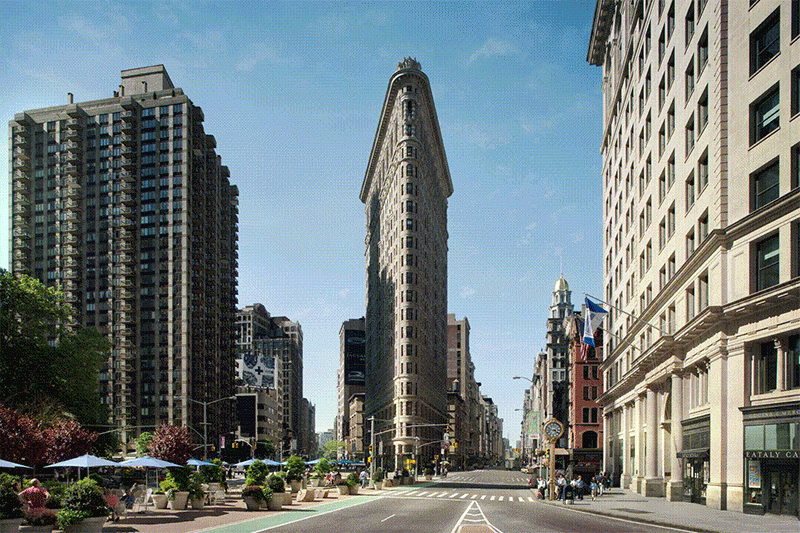 WATG announces an urban planning solution that shapes a new vision for a greener New York City
–
one that underscores the unforeseen positives revealed during the pandemic
As the coronavirus lockdown took force of major metropolises, an unusual thing happened across the world's best cities: the sounds of taxi horns hushed, the skies cleared and the gloomy haze of pollution lifted. There were reports of city dwellers waking up to the song of birds, rain pouncing on windows, and the rustling of leaves. As New York City begins to peek its head out from its hibernation – unlocking bodega doors, flipping open blinds, and turning around its "Open for Business" signs – there are obvious unintended positives that almost instantaneously took hold of the city that never sleeps. New Yorkers should not forget what a cleaner city looks like, and fight to find a way to adopt new ways of living that contribute to a healthier, safer, more breathable way of life. 
It is that spirit that fueled WATG, the multidisciplinary global design firm, to "roll out" a new vision for New York City's streets. The concept, titled Green Block, led by John Goldwyn, WATG's London-based master planner and landscape architect, was an internal innovation competition focused on how its team of leading urban planners, landscape architects and designers could use their skills, and lessons learned from the pandemic, to transform urban spaces in a post-pandemic world for the better. The concept at once allows for a green, carless, alfresco-hopping, streetscape vision for New York's streets. 
"Our cities have long been overdue for transformation and, as some people flee for greener landscapes in the wake of COVID-19, Green Block proves that you don't need to sacrifice one for the other – we actually can, in fact, have both the urban and the green lifestyle," said Goldwyn.
Focusing on the intersection of Manhattan's Flatiron Building, an iconic symbol for the city itself, Green Block claws back space from the roads and reclaims it for the people and environment. 
Green Block is built using a modular program that transforms city streets into green spaces using a kit-of-parts system that is maintenance-free and created from 100% recyclable materials. Green Block not only adds greenery to existing cafes and shop fronts but it creates untapped revenue opportunities for retail, commerce, and restaurants, and helps clean and filter city air while beautifying streetscapes.
Green Block brings limitless value to cities and destinations – serving as a living, breathing solution to air filtration; reducing car noise, impact and pollution; providing homes for the world's decreasing bee population; and increasing the amount of space for people to exercise and leisure. The solution provides greater opportunity for cyclists and walkers, replacing paved footpaths with lush plants; and increasing street appeal for restaurants and retail – providing untapped opportunities for outdoor dining and shopping. Restaurant operators can also use the new outdoor space to grow vegetables, herbs or fruits to serve on their menus.
"People who are all too often disconnected from nature should be allowed respite on their streets. The pandemic tapped into an underrepresented desire in urban dwellers to connect with nature. That desire is a human right, and the city needs to address it. Green Block is in the best interest of New Yorkers and New York City's standing in the world," finished Goldwyn.
"As planners and designers, we have to help communities become more self-reliant. We have to make sure we're creating systems that help ourselves and future generations thrive," continues Goldwyn. "Communities that are resilient with strong, built-in systems of support become even stronger during times of crisis."
WATG is currently working with confidential land owners in the United Kingdom to deploy Green Block on select streets of London, and the concept has been recognized by Urban Design Forum, based in New York, as a solution for their "City Life After Coronavirus" call for entries, which focuses on organizations advancing a just and equitable recovery for communities most impacted by the crisis.
More Insights