Designing landscape narratives from the soul
There's something about Antipodean's and their affiliation with nature and the landscape. Perhaps it's that they grow up in and amongst the natural habitat in a way that's the envy of urban sophisticates all pedalling to stay afloat in the city. Meeting Dan Hinch a native New Zealander you get that outdoors open conversation style that is a reflection of his heritage. He is definitely passionate about the natural beauty of a landscape and a healthy respect for nature. Using local materials in a new way while still being true to the destination has become his mantra. As he says "Use a specimen tree and it can take on the purpose of highlighting a place".
Conveying the narrative of design through visuals is natural for landscape architects, but marry that with an authentic narrative that comes from the soul and you've got a piece of magic.
A small project in Kenya was just such an opportunity for Dan as it was to be realised on a sensational piece of land from which you could see Kilimanjaro in the far distance. The clients had never experienced a 3D fly through of anything before so were completely astonished at the first presentation of design concepts and asked if Dan if he could present it all again the following day. It seemed like an odd request, but client's wishes are paramount and Dan walked into an audience of nearly 200 people!  It looked as if the entire local village, including local banks and investors, had shown up. The reality was that the clients appreciated how powerful Dan's story around the concepts for this project were in convincing everyone of the design ideas, so why not get him to tell the story again himself?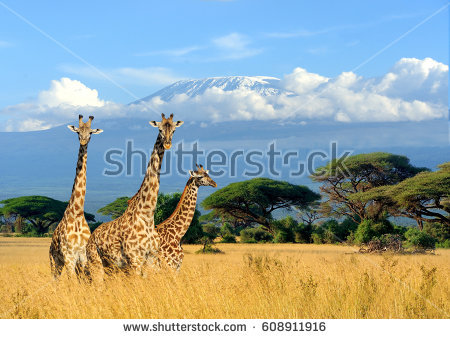 Dan really believed in the site and wanted it to be as natural as possible. He did this by speaking to the topography through design that allowed the natural migration of wildlife to fit into the plan. It meant embracing the remarkable landscape, celebrating it and highlighting it. As Dan says "If there's a watering hole, it's there for a reason so leave it there. Highlight what is there naturally".  It was clear that the villas should definitely be positioned to take in the astonishing views, not to mention the meandering giraffe and elephants.
The locals got the sense that they knew how to interpret them, that they care and it's not about egos. Getting involved with the clients and the local tribes was humbling experience for Dan. He notes "We are changing their landscape, and we are trying to do it as responsibly as possible. The result should be natural not artificial".
This heart of house philosophy became evident on another of Dan's projects in the tropical paradise of Mauritius. This island nation has been largely taken over by sugar cane, and deforested by numerous civilisations including the Dutch, French, English and Indians. So sticking your neck out to save the land in a commercial environment really takes some courage, and Dan has it. Convincing a client that 3 golf courses is not a great idea but that if WATG could reforest 300 – 400 hectares and build the community into the project then they could sell off the back of reforestation.
It was of course a great team involved, everyone at WATG is collaborative not just internally but in the communities and with the clients. Ultimately the idea was that they would create something that involved homes, a school and agricultural development, and in that way we could help Mauritius be sustainable. As Dan puts it "We're not trying to build a monument, we build for people."
Absorbing and understanding the natural landscape involved several days of trekking, drawing and drinking from streams. Following the philosophy of WATG "Take only photographs, leave only footprints" Dan saw how he could create visually through design vignettes and natural moments by spacing the trees.  Visitors would then get a glimpse and then another, sometimes tricking them into seeing something new, feeling it touching, it smelling it. Dan says "The most boring thing is a straight road, there's a need for visual and physical activity to create a guest journey. The idea is to excite but make it real like everything happened naturally. If the viewer learns that what we have designed is cleverly crafted then great. But if they don't, then we have done our job". Architectural firms have a chance to save places and give back. At WATG they look at it as an opportunity to show that they care, knowing they have the power to enrich lives.
More Stories